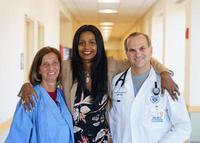 Magdalana R., who is known by her colleagues, friends, and family as always helping others, was recently on the receiving end of getting the crucial help she needed when she experienced a heart attack on October 20, 2018.
The 45-year-old Stoughton resident is extremely grateful for the care she received at Good Samaritan Medical Center, and specifically credits Interventional Cardiologist Clifford Berger, MD for saving her life.
On the day of her heart attack, Maggie, an administrator for the Boston Public Schools, had just returned home from work and suddenly began to experience chest pain. 
"I thought I was having an anxiety attack or heartburn and took my acid reflux medicine. But the pain didn't go away, and it intensified," says Maggie. "I was very distraught, hot and sweating profusely."
Maggie's fiancé called 911, while her brother, sister, and brother-in-law stayed by her side. During the ambulance ride to Good Samaritan, she was informed that she wasn't having acid reflux – she was, in fact, having a heart attack.
"Maggie wasn't experiencing the classic heart attack symptoms men and women typically have, such as a feeling of pressure, heaviness, or tightness in the chest. Instead, she experienced an atypical tenderness over her chest wall," explains Dr. Berger. "It was crucial they acted as quickly as they did and didn't ignore the symptoms she was having."
When Maggie arrived at the emergency department, she was very scared and skeptical about receiving care and treatment by the medical team.
"I was terrified," says Maggie. "But then there was a golden moment when Dr. Berger explained to me that if I didn't have the procedure I would die. I knew he truly cared about me. I told him to do what he needed to do to save my life." Maggie underwent a cardiac catheterization procedure in which Dr. Berger placed one stent as her main artery was 99 percent blocked and another one was 100 percent blocked at its origin.
"I was initially so scared about being in the hospital, but I couldn't have been happier with the treatment I received," she says. "The staff was very caring and I was treated very well."
Since having her heart attack, Maggie took a leave of absence from her job, is eating differently, and is focused on healing – physically, emotionally, and spiritually. In addition to preparing to begin a cardiac rehabilitation program, she is also preparing for her wedding in August 2019. Her family, nearby and far away, have supported her throughout the journey.
"My life has transformed," Maggie explains. "I was used to transforming so many lives through the school system and to have to put my job on hold is very hard – it's like telling LeBron James to hang up his basketball jersey for a bit. But I know this is what I need to do to heal, and having heard from over 2,000 former students with well wishes makes me want to hit the ground running and get stronger."
According to Dr. Berger, Maggie is "an example of someone who didn't have many of the typical heart attack risk factors such as having a family history of heart disease, smoking, having high blood pressure or high cholesterol, or being overweight. She is young and still developed a heart attack."
"Never in a million years did I think I would have a heart attack," she says. "I learned that I can't bring the stress from my job home. I also learned that heart attacks are real, and you should never ignore the symptoms."
###
At Good Samaritan Medical Center for Cardiac and Vascular Care, we offer patients high quality advanced technology, compassionate care and skilled, knowledgeable staff trained in heart failure treatment, the prevention, diagnosis and treatment of heart conditions, circulatory problems, and cardiovascular disease. To learn more visit: https://www.goodsamaritanmedical.org/cardiovascular-medicine