Bridgewater Fire Department honored with "EMS Stewards of the Community" Awards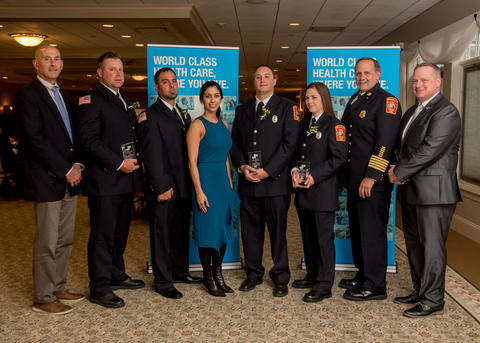 Recognizing those who deliver exceptional care and compassion to patients every day
Pictured above (L-R): Ken Lawson, MD, Chief Medical Officer, Good Samaritan Medical Center; Jason Akstin FF/EMT-P; Jeffrey Germaine FF/EMT-P; Marisela Marrero, MD, President, Good Samaritan Medical Center; Joshua Anacki FF/EMT-P; Cori Handorff FF/EMT-P; Chief Thomas Levy; Brenden Hayden, Vice President EMS, Steward Health Care. 
In celebration of National Emergency Medical Services (EMS) week, Steward Health Care hosted the third annual "EMS Stewards of the Community" award ceremony on May 20 at the Tirrell Room in Quincy, Massachusetts.
Steward Health Care operates nine hospitals across Massachusetts, recognized 19 EMS providers. Among the individuals honored were Captain Timothy Donovan and Firefighters/EMT-Ps Jason Akstin, Jeffrey Germaine, Joshua Anacki and Cori Handorff of the Bridgewater Fire Department. They were recognized for "going above and beyond" in their interactions with a Good Samaritan Medical Center patient.
The Bridgewater Fire Department team was nominated by their peers for their efforts in trying to save the life of a motorcyclist involved in a serious accident in August 2018. Knowing the patient had sustained severe injuries and chance for survival was slim, the team shifted gears and focused on comforting the patient while continuing to treat his critical injuries as he was being transported to the hospital. The patient lost a pulse multiple times and the paramedics were able to get it back. They continued caring for the patient while speaking in calm, confident tones. Unfortunately, the patient did not survive, but his last moments were spent in the care of compassionate and dedicated paramedics.
"This Steward of the Community Award is a well-deserved recognition for the Bridgewater Fire Department," said Marisela Marrero, MD, president of Good Samaritan Medical Center. "The team's effort demonstrates an extraordinary dedication to the EMS profession. The care and comfort they provided for a patient during a very difficult time is a testament to the compassion that our EMS partners bring to their jobs every day." 
The "EMS Stewards of the Community" awards show appreciation for emergency medical responders, emergency medical technicians and advanced emergency medical technicians, and paramedics who not only carry out the noble work of caring for others, but do so with a high degree of expertise, professionalism, and compassion. An internal committee of physicians and EMS directors selected nominated recipients among current providers in communities served by Steward.
 Massachusetts State Police Trooper Christopher J. Dumont, EMT-P, delivered the "Stewards of the Community" keynote address. Trooper Dumont helped save the life of Transit Officer Richard Donohue, who was shot by one of the 2013 Boston Marathon bombing suspects. Because of his heroic actions, Dumont received the Medal of Honor, the highest award given by the Massachusetts State Police.