COVID-19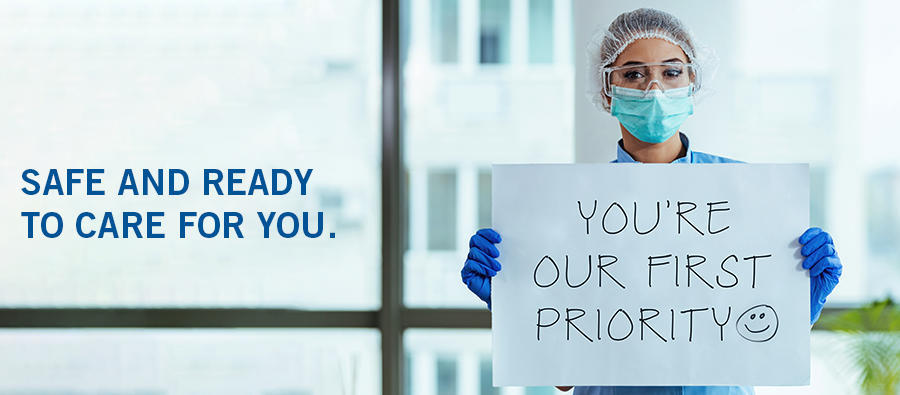 At Good Samaritan Medical Center, we're taking precautions to make sure our hospital is clean, safe and ready for your next visit.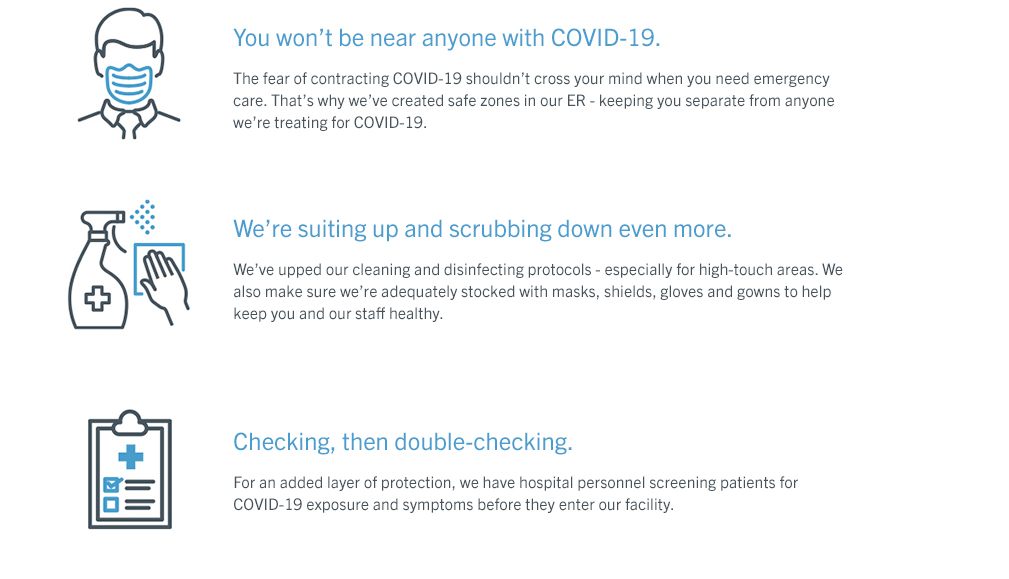 Your health and safety are our top priority
Good Samaritan Medical Center is taking additional, necessary preparations to ensure patients can receive compassionate care in a safe, carefully managed environment – with confidence and without fear.
Our Safe and Ready program consists of a rigorous five-point standard ensuring patient safety, confidence and convenience:
Expanded hours will allow previously cancelled procedures to be scheduled as quickly as possible.
Any COVID-19 related care takes place in designated areas away from other patients and their families.
The Emergency Department has mechanisms in place to separate COVID from NON-COVID patients and continues to be a safe place to treat all emergency patients.
Rigorous cleaning procedures continue to be a top priority.
A strictly controlled visitor and mask policy is required for patient safety.
You can rest assured that we have made the necessary preparations to care for you in a safe, controlled and professional way.
We're here, and we're ready to provide the care you need.
IMPORTANT INFORMATION ABOUT VISITING RESTRICTIONS
The safety and well-being of our patients, visitors and staff is our number one priority.
Please be aware of the following newly revised guidelines before visiting Good Samaritan Medical Center.
Temporary Visitor Restriction and Guidance during COVID-19
Effective Monday, March 15th
Approved visitors are welcome to visit between 11 AM and 8 PM daily.
• Visitors must be 18 years of age or older.
• Upon arrival, each visitor will be screened for wellness and COVID-19 exposure.
• Visitors will be required to wear a face mask for the duration of their visit and are encouraged to bring their own masks; surgical masks will be provided to visitors who don't have their own. Scarves, bandannas, and handkerchiefs are not allowed. Refusal to wear a mask will result in the revocation of visitation privileges- a second designated visitor will not be permitted.
• Family, friends, and loved ones are encouraged to use electronic devices to connect with patients.
• Patients who have tested positive for COVID-19 or have a suspected case will not be allowed in-person visitors.
• Inpatient Units:
Patients are permitted one visitor for the duration of their admission. Patients will be asked on admission to designate the one visitor. Visitors are expected to wear facemasks and remain in the patient room, DO NOT wander in the hallways, and please respect the privacy of the roommate. No overnight stays are permitted. Visitors are to refrain from eating in a patient's room.
• Emergency Department:
Adults Patients: One visitor is allowed.
Pediatric Patients: One Parent/Guardian. Exceptions must be approved by the care team.
• Labor & Delivery/Maternity:
One support person may visit freely for the duration of a patient's stay. After delivery, the patient may also have one visitor on the Maternity unit. Patients must designate the one additional visitor upon admission. A doula is also permitted for labor and birth.
• Surgical Services:
Patients are allowed one person to accompany them during their visit. Visitors are only permitted in the pre-op and waiting room areas.
• Outpatient and Ambulatory:
We ask that patients minimize the number of visitors accompanying them to appointments. Accommodations are made for patients with functional impairments or disabilities, and parents unable to obtain childcare.
• Patients with Physical or Intellectual Disabilities:
One support person over the age of 18 will be allowed for patients with physical of intellectual disabilities, regardless of the patient's COVID status. There are no restrictions on visiting hours. Support persons are not considered visitors.
There are very limited exceptions to these policies, including for minor patients, patients with guardians, end of life/advanced care planning, or other extenuating circumstances. All exceptions to these policies must be approved by the patient's care team prior to your visit.
While we are sensitive to the difficulties facing loved ones of hospitalized patients, our health care team must keep our patients and staff safe during this unprecedented health emergency.
We encourage family members and friends to use alternative ways to interact with their loved ones, including phone calls, Facetime and Skype.
HOSPITAL ENTRANCES
Entrance to the hospital will be restricted to the following entrances:
Main Entrance: Every day from 7 a.m. – 8 p.m.
Emergency Entrance: 24 hours a day / 7 days a week.
The Good Samaritan Medical Center team appreciates your understanding and cooperation in helping to keep our communities safe.