Wound Care Center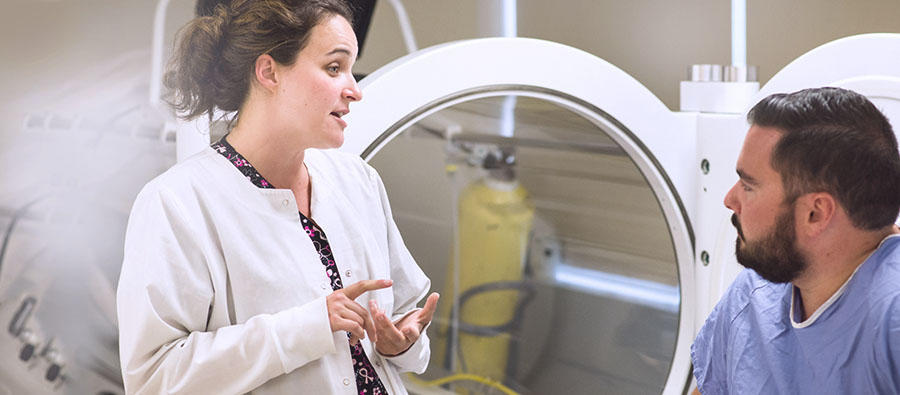 We are here to help you find what you need.
The Good Samaritan Center for Wound Care & Hyperbaric Medicine is a hospital-based outpatient service located in Stoughton, Massachusetts. 
Circumstances that require wound care include, but are not limited to:
Ulcers (pressure, diabetic, neuropathic or ischemic)
Surgical wounds
Vasculitis
Burns
Peristomal skin irritations
Soft tissue radionecrosis
Actinomycosis
Preservation of compromised skin grafts and flaps
Crush injury/acute traumatic peripheral ischemia
Progressive necrotizing infections (necrotizing fasciitis)
Osteoradionecrosis
Traumatic wounds
A variety of treatment options are available depending on type and severity of a wound, including:
Infectious disease management
Vascular evaluation
Laboratory evaluation
Nutritional management
Pain management
Diabetic education
Debridement
Hyperbaric oxygen therapy
Low Frequency ultrasound
Bioengineered tissue placement
Negative Pressure Wound Therapy
Compression Therapy
The Chambers
The hyperbaric chambers are non-invasive, clear acrylic chambers that provide 100 percent oxygen to promote the optimum healing opportunity. While breathing pure oxygen, the patient's blood plasma becomes saturated, carrying 20 to 30 times the normal amount of oxygen to the body's tissue. The ultimate result is the body's natural, oxygen-dependent wound healing mechanisms are able to function more efficiently. Continued use of hyperbaric oxygen therapy increases the body's immune and healing response.
Conditions that may benefit from hyperbaric oxygen therapy include:
Diabetic wounds of the lower extremity
Wounds that have not healed in several weeks
Post-radiation tissue injury
Diabetes-related foot and ankle ulcers
Crash injuries
Wounds caused by poor circulation or trauma
Compromised grafts and flaps
Gangrene
Pressure ulcers
Necrotizing soft tissue infections
Carbon monoxide poisoning 
Acute traumatic peripheral ischemia
Compromised skin grafts and flaps
Osteomyelitis
Actinomycosis