Good Samaritan Medical Center Hosts Medical Team from China in Month-Long Training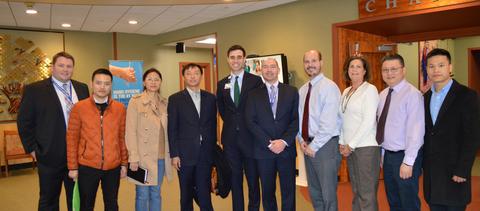 Good Samaritan Medical Center Radiation Oncology recently hosted a team from Wenjiang District Peoples Hospital, located in the Sichuan Provence of China, on an information sharing tour. Alliance Oncology, in partnership with their International division, Alliance International, organized the visit with the radiation oncology team from Wenjiang Hospital.
The Wenjiang District is located near the major city of Chengdu and is similar as Brockton is to Boston regarding patient population percentage. The team is seeking a model for exceptional patient treatment services. Recognized by the Commission on Cancer with an Outstanding Achievement award, the Good Samaritan Medical Center Radiation Oncology program is accredited by the American College of Radiology and is poised to offer the best possible learning opportunity for their visitors.
"We are eager to share our Cancer Program highlights which encompass operations and collaboration between departments, as well as an introduction to the oncology business model," said A. Jason Zauls, MD, Medical Director of Good Samaritan Medical Center's Radiation Oncology Program. "Our processes include an understanding of Senior Leadership roles and responsibilities as well as how to develop and deliver academic program standards within a community based hospital environment."
Dr. Hu Xiaodong, Radiation Oncologist, and Mr. Liu Xiaojun, Medical Physicist, will remain at the Radiation Oncology Center for an intensive month-long training program. Upon their return, the team will implement standards for radiation therapy treatment delivery, quality assurance, and improved patient outcomes from diagnosis through recovery, at their newly constructed Wenjiang Cancer Institute, slated to open later this year.
The Good Samaritan Medical Center cancer program gives patients access to some of the area's leading board-certified medical and radiation oncologists, as well as radiologists, surgeons, pathologists, nurses, therapists, dietitians, social workers, and other professional support staff dedicated to cancer patients. Good Samaritan's multidisciplinary team offers a high level of clinical expertise in preventing, diagnosing and treating all types of cancer. Patients and families are met with compassion and care from diagnosis through treatment to recovery. To learn more, please call the program Nurse Navigator at 508-427-2900.