Good Samaritan Medical Center Receives an 'A' for Patient Safety in Fall 2018 Leapfrog Hospital Safety Grade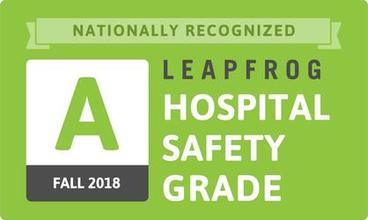 Recognition Demonstrates Steward Health Care's Commitment to Safety and High Quality Community Care
Good Samaritan Medical Center – a Steward family hospital – was awarded an 'A' from The Leapfrog Group's Fall 2018 Hospital Safety Grade. The designation recognizes Good Samaritan Medical Center Hospital's efforts in protecting patients from harm and meeting the highest safety standards in the United States. Good Samaritan Medical Center is part of Steward Health Care – the nation's largest private, for profit physician led health care network in the United States – which leverages technology, innovation, and care coordination to provide the highest quality care and safety in communities where patients live. "At Good Samaritan Medical Center and across all Steward hospitals, patient safety is our top priority and we pride ourselves on keeping our community healthy, year after year," said Harrison Bane, President of Good Samaritan Medical Center. "Our score reflects our focus on culture, quality and an investment in our people and clinical programs, including trauma. We are honored to be recognized today by Leapfrog for delivering on this mission."
The Leapfrog Group is a national organization committed to improving health care quality and safety for consumers and purchasers. The Safety Grade assigns an A, B, C, D or F grade to hospitals across the country based on their performance in preventing medical errors, infections and other harms among patients in their care.
"Leapfrog's Hospital Safety Grades recognize hospitals like Good Samaritan Medical Center that focus on advancing patient safety. This ranking provides an important resource for patients, and a benchmark for hospitals, to determine how care at one hospital compares to others in a region," said Leah Binder, president and CEO of The Leapfrog Group. "Hospitals that earn an A Hospital Safety Grade deserve to be recognized for their efforts in preventing medical harm and errors."
Developed under the guidance of a National Expert Panel, the Leapfrog Hospital Safety Grade uses 28 measures of publicly available hospital safety data to assign grades to more than 2,600 U.S. hospitals twice per year. The Hospital Safety Grade's methodology is peer-reviewed and fully transparent, and the results are free to the public.
Good Samaritan Medical Center was one of 855 across the United States awarded an A in the Fall 2018 update of grades. To see Good Samaritan Medical Center's full grade details, and to access patient tips for staying safe in the hospital, visit www.hospitalsafetygrade.org and follow The Leapfrog Group on Twitter and Facebook.