World renowned surgical oncologist Claudius Conrad, MD, PhD, FACS, brings highly specialized cancer care to Steward Health Care
Expertise will benefit patients with liver and pancreatic cancers.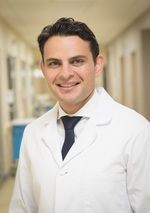 Steward Health Care and Good Samaritan Medical Center welcome internationally renowned surgical oncologist
Claudius Conrad, MD, PhD, FACS
. Dr. Conrad is the Chief of General Surgery and Surgical Oncology, and the Director of Hepato-Pancreato-Biliary Surgery, at St. Elizabeth's Medical Center in Brighton, Massachusetts. Prior to joining Steward, he was a surgical oncologist at the prestigious MD Anderson Cancer Center in Houston, Texas.
Dr. Conrad is based at St. Elizabeth's Medical Center, however, he works collaboratively with colleagues throughout Steward Health Care's New England hospitals, including Good Samaritan Medical Center.
"Liver and pancreatic cancers require dedicated and specialized treatment of care," said Dr. Conrad. "I am excited to be able to grow this program for the        benefit of patients throughout the Steward system. My goal is to build an interdisciplinary program focused on excellent patient outcomes, less trauma          through minimally invasive approaches, and a wonderful patient experience, working collaboratively with local providers to ensure patients receive the highest quality of care."
Dr. Conrad also focuses his care on diseases and cancers of the gallbladder, bile ducts, duodenum and spleen. He is an international pioneering expert in minimally invasive surgery who uses both laparoscopic and robotic-assisted techniques in treating these conditions. 
Liver and pancreatic cancers affect thousands of people in the United States annually. This year, the American Cancer Society estimates that more than 42,000 people will be diagnosed with liver and other cancers that start in the bile duct, and another 56,770 are estimated to be diagnosed with pancreatic cancer.
"Given the incidence of liver and pancreatic diseases and cancers, having a surgeon with the skills and expertise that Dr. Conrad possesses will make an important difference in outcomes for patients," said Marisela Marrero, MD, President of Good Samaritan Medical Center. "He brings a world-class, unique talent that will benefit all the patients he treats throughout the Good Samaritan community while working closely with our local specialists."
He is welcoming patients today and can be reached at:
St. Elizabeth's Medical Center, Medical Office Building, Suite 201, 11 Nevins Street
Brighton, Massachusetts 02135, Phone: (617) 789-2442 Fax: (617) 202-4349