Ribbon Cutting Marks Completion of Renovations for Steward Medical Group Hematology Oncology Infusion Center
A newly renovated Steward Medical Group (SMG) Hematology Oncology Infusion Center was celebrated with a ribbon cutting on October 7. Good Samaritan Medical Center leadership joined SMG Hematology Oncology physicians, nurses and Cancer Program leadership to mark the completion of the project. The renovated center provides patients with a contemporary space and new features that will improve the delivery of care.
Services offered at the Infusion Center include: chemotherapy; biological and other targeted therapies; hematology; bone marrow biopsies; hormone therapy; GI infusions; asthma allergy injections; neurological infusions and patient support services. The center features 8 infusion chairs (including 2 new private infusion chairs), 3 exam rooms, and a new pharmacy.
Physicians providing Hematology and Oncology Services in the center include: Jonathan Croopnick, MD; Carmen Pisc, MD and Richard Junghans, MD.  
The SMG Hematology Oncology Infusion Center is located in The Medical Office Building at 830 Oak Street, Brockton, MA. Call 508-588-0832 for more information.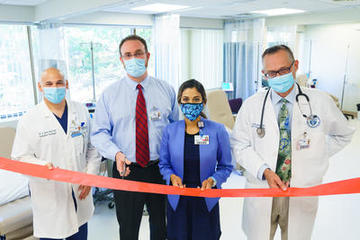 Pictured L-R: A. Jason Zauls, MD, Radiation Oncology Director; 
Jonathan Croopnick, MD, Hematology Oncology; 
Marisela Marrero, MD, President, Good Samaritan Medical Center; 
Richard Junghans, MD, Hematology Oncology