Matthew Hesketh Named President of Good Samaritan Medical Center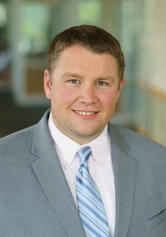 BROCKTON, MA – Matthew Hesketh has been named President of Good Samaritan Medical Center (GSMC).  Hesketh joined Steward Health Care in 2009, most recently serving as Chief Operating Officer, Vice President of Operations, and Director of Quality and Patient Safety at Good Samaritan Medical Center.  Hesketh has more than nine years of health care leadership experience with a focus on high-quality care, innovative services, operational excellence, and community commitment. 
As Chief Operating Officer at GSMC, Hesketh has overseen extensive programmatic development that has resulted in GSMC becoming the first Level III Trauma Center in Massachusetts EMS Region V, and an Orthopedic Center of Excellence for Total Joint Replacement, a designation from The Joint Commission.
Prior to his tenure at Good Samaritan Medical Center, Hesketh held several positions within the Steward Health Care system, including Manager of Performance Improvement and Regulatory Preparedness at Morton Hospital, Quality and Performance Improvement Analyst for Steward Corporate Offices, and a role in Finance and Administration at Carney Hospital.
Hesketh holds a Bachelor of Arts from Boston College and a Master of Business Administration with a concentration in Healthcare Administration from Southern New Hampshire University.
"I'm honored to have the opportunity to lead an outstanding team of physicians, nurses and staff at Good Samaritan Medical Center. It is the unwavering dedication of our entire team
that has made it possible to meet the ongoing challenges we have faced over the past year.
Living in the greater Brockton area, I know firsthand the vital role Good Samaritan Medical Center serves in providing high-quality and compassionate health care for the people in our region. It is a privilege to serve my community in a new role as we work together to build the programs and services that make Good Samaritan Medical Center the premier choice for health care," said Matthew Hesketh, President, Good Samaritan Medical Center. 
Past GSMC President Dr. Marisela Marrero is embarking on a new and exciting role as President of Hialeah Hospital, one of the five South Florida hospitals recently acquired by Steward. For the past three years, Dr. Marrero has provided forward-looking leadership as President of GSMC. She brought a unique combination of clinical and business acumen to her tenure, resulting in countless achievements and recognitions that established GSMC as a health care leader in the region. We wish her continued success in her new role.