Nursing: Who We Are
Good Samaritan Medical Center nurses have earned a reputation for providing extraordinary clinical care.  We provide first class trauma and emergency nursing care, Baby Friendly-designated maternity services and geriatric psychiatry care, as well as medical, surgical and cardiac nursing care.
Thank you for your interest in nursing at Good Samaritan Medical Center.  Check out our current Nursing Career opportunities.
Nursing Philosophy
Providing a broad spectrum of care at a full service, acute care hospital, our nursing team has the expertise and advanced skills that are needed to assure our patients receive high quality care.  We deliver this care according to our C.A.R.E.S. values: Compassion, Accountability, Respect, Excellence and Stewardship. Our nursing team is committed to these values as they care for every patient. We created a professional recognition program by adopting the DAISY Foundation principles of extraordinary nursing care.  We embrace a recognition program in which nurses, patients and their families can express their appreciation for the work that our nurses do every day. 
Recent DAISY Award Winners: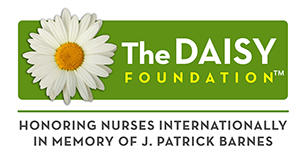 | | |
| --- | --- |
|  Eric Joubert, RN |  Catheterization Lab |
|  Stephanie Beckwith, RN |  Intensive Care Unit |
|  Krista Schrage, RN |  2B |
|  Lynn Badger-Oriani, RN |  Emergency Department |
|  Michelle Ford, RN |  3B |
|  Elita Scardigno, RN |  Emergency Department |
|  Enriqueta "Erica" Ribeiro Barros, RN |  Labor and Delivery |
|  Tammy Lodge, RN |  4A |
|  Megan Charrier, RN |  2A |
Professional Development
Good Samaritan recognizes the importance of ongoing learning throughout a nurse's career, from novice to expert.  We provide new graduate RN educational programs with both classroom components, and precepted skills training that is offered in our nursing units. Novice nurses are partnered with experienced nurses (or preceptors) to gain skills and knowledge. For nurses with experience who want to expand their clinical area of expertise, we provide transition programs for Emergency and Critical Care specialties. As our nurses advance in practice, we provide options for additional preceptor training, charge nurse education, and opportunities for active participation in our unit-based nursing councils.
Sincerely,
Melody O'Keefe, MSN, RN, CEN, NEA-BC
Vice President of Patient Care Services and Chief Nursing Officer