Radiation Oncology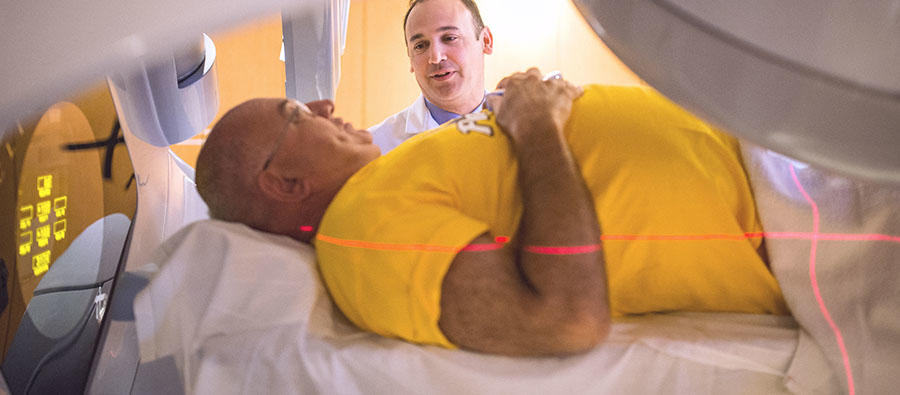 We are here to help you find what you need.
"This was my first experience with radiation. The staff was exceptional in that I felt very comfortable coming for treatment. I did not know what to expect but their professional and friendly approach put my mind at ease!"
Good Samaritan Radiation Oncology Center features state-of-the-art radiation therapy equipment in a warm and caring atmosphere. The staff is committed to the wellbeing of the whole patient as they navigate their treatment needs. Our team is comprised of some of the area's most experienced and highly accomplished radiation therapy professionals who will expertly guide you through each step of your treatment and recovery process.  
We are partnered with Alliance Oncology, a leading national provider of radiation therapy services. Alliance Oncology has assembled leaders in the field of radiation oncology to develop, implement, and direct clinical aspects of our radiation oncology program with the goal of optimizing patient care and creating a culture of clinical excellence. 
Advanced Technology
Our center offers two new cutting-edge medical systems designed to target and treat tumors with greater precision while preserving as much healthy tissue as possible.
Intensity Modulated Radiation Therapy (IMRT): IMRT is a type of radiation treatment whereby the radiation beam is carefully sculpted around a patient's anatomy. Compared to conventional radiation therapy, IMRT provides more precise targeting of the tumor and greater sparing of surrounding normal organs.
Image-Guided Radiation Therapy (IGRT): IGRT is a technique used to track the internal movement of a patient's anatomy by imaging the patient each day during treatment and making fine positioning adjustments.
Stereotactic Body Radiation Therapy (SBRT): SBRT uses advanced imaging techniques to deliver a targeted radiation dose to a tumor. The radiation is focused on the tumor with millimeter precision. The result is that less healthy tissue gets damaged by the radiation. Preserving healthy tissue is important for cancer patients whose tumors are near or in essential organs.
3-D Conformal Therapy: The treatment plans are developed using a 3-D conformal technique. Using a CT scan, which allows 3-D visualization of the tumor and surrounding normal tissues, as well as a very sophisticated computer system, the physicians and physicists customize the shape of the radiation beams to the tumor's specific size and shape.
Good Samaritan Radiation Oncology Center is accredited with commendation as a community hospital comprehensive cancer program by the Commission on Cancer of the American College of Surgeons. We also have earned unconditional accreditation by the American College of Radiology.
Resources
Radiation Therapy Team

Radiation therapy is an important part of many cancer patients' total treatment plan. During radiation treatments, carefully targeted and measured doses of radiation are administered to your body.

Radiation Therapy FAQs

Questions about your radiation oncology visit? Read our frequently asked questions to find answers.